Five years ago, I made a commitment to fight fascism and defend my home and my community. In that time since, I've searched out what it means to fight against hate, exploring across both time and space how people have used their minds and their bodies and their lives in the desperate combat to keep the needle of society pointed towards progress. The only thing I've learned is that regardless of how one activates themselves, it will be uncomfortable. There are no easy wins, no simple solutions, no victories without risk. One will lose in order to gain. I'm taking those lessons to heart, reminding myself that I have a privilege and a power to hold ground that maybe nobody else can. Sometimes it feels like wading upstream against a flood.
That struggle also means that it's necessary to take time out for yourself. Why fight for a better life if you can't enjoy life? I remembered that this week, too.
Oh yeah, and I got Andy Ngô locked out of Twitter for a day.
I found myself with the occasion to return to Stuttgart. I was there last week, and this week it was planned that I would speak at an event. But in a surprising twist, I ended up having to come a day earlier to speak an another event, as the planned keynote speaker fell ill. I woke up early Wednesday morning, needing to take an early flight rather than the leisurely train through central Germany, and immediately felt regret. I was operating on less than three hours' sleep, and to top it off, I had food poisoning. Wednesday proved to be one of the longer mornings of my life, as the airport experience was unpleasant in every measurably way. Not only was I sick, but the #FlughafenChaos is real. Impossibly long security lines, flight delays, unhappy staff; all of this was on the itinerary Wednesday morning.
I arrived 15 minutes before I was supposed to take the mic. The show must go on. It wasn't my best talk, but I made it through.
After two talks in two days, I spent a day working from our Stuttgart office and took advantage of being out west to spend a weekend traveling. I went to Luxembourg (how else would I have crossed that country off my list) and Trier, spending a sunny weekend wandering the cities and visiting old ruins. I decided that if my queer ass lived any time before the advent of the internal combustion engine I would simply die. There were a lot of rocks that got carted up a lot of hills to build those forts and I'm astonished it was even done at all. I'm writing this from the train now, but I'll work up my photos this week. Nothing special, but it was nice to see some history. Oh, and I visited Karl Marx's birthplace. Eat your hearts out, tankies.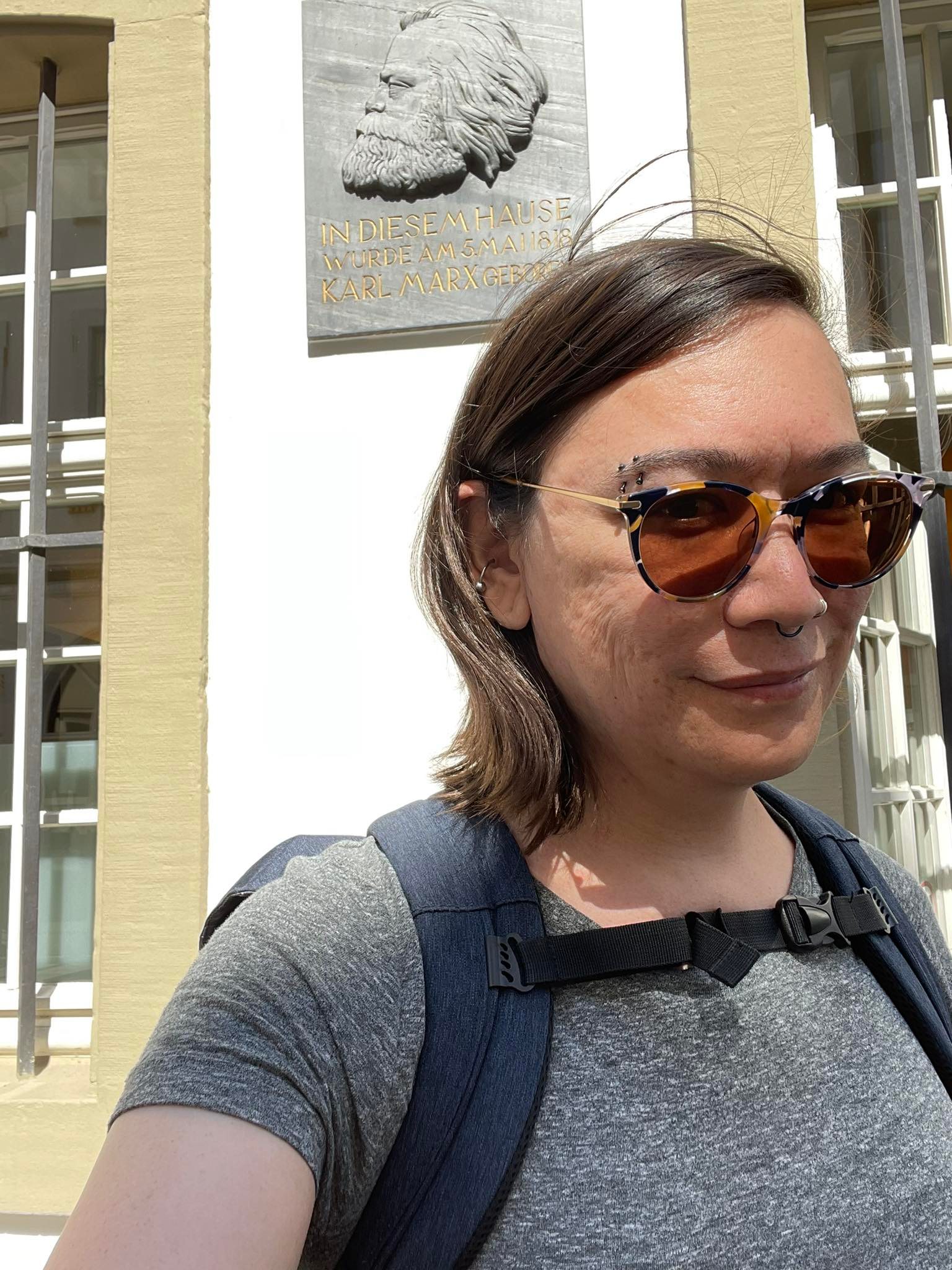 I don't have any more travel in my future for the next few months. I'm excited to anchor myself in Berlin for a bit, continue learning German, and doing more reading and writing. Since the start of the war it's been a relentless year. Respite will be welcomed.
What I'm writing
There's been a lot of, in the gentlest terms, rather shitty advice flying around about how to maintain data safety in light of the incoming abortion bans all over the country. I felt it important to add some accessible context, as a professional data scientist, about how to model your data threats.
I also talked about how the recent situation underscores how carelessly we've wielded the term "extremist", and how you can fight back as that label begins to be applied to you.
The week ahead
Next week, I'm looking forward to rest, watching Marvel movies, cleaning my flat, and planting my feet to hold the ground that matters.