Last year, Christine and I went to Alaska and Vancouver to celebrate my 40 years around the earth. Almost 25% of those years have been spent married to her, and this year we decided to do a (slightly premature) 10th anniversary trip. Of course, we (by which I mean me) decided to make it more complex than we needed. Christine wanted to see Ireland and Scotland; I've wanted to see Wales and wanted to get home for a couple weeks, too. And both of us wanted to get back to the Goodwood Revival, so I put together an aggressive itinerary that would see us start in Ireland, and make our way clockwise around the British Isles.
Leg 1: Cork
I've been to Dublin a few times before. A couple times for work, conferences, overnights for a flight back to the states. My first trip there was for a conference, it was only three weeks after Unite the Right and I was still in a daze. I hardly remember that trip. Christine had no real desire to see the city, so we opted instead to head out to rural Ireland, where we could spend some quiet days in the countryside. I found a beautiful Airbnb on the sea, in a little village called Robert's Cove about 45 minutes south of Cork. We found ourselves about 10 miles from nowhere, the only amenities a public beach and two pubs.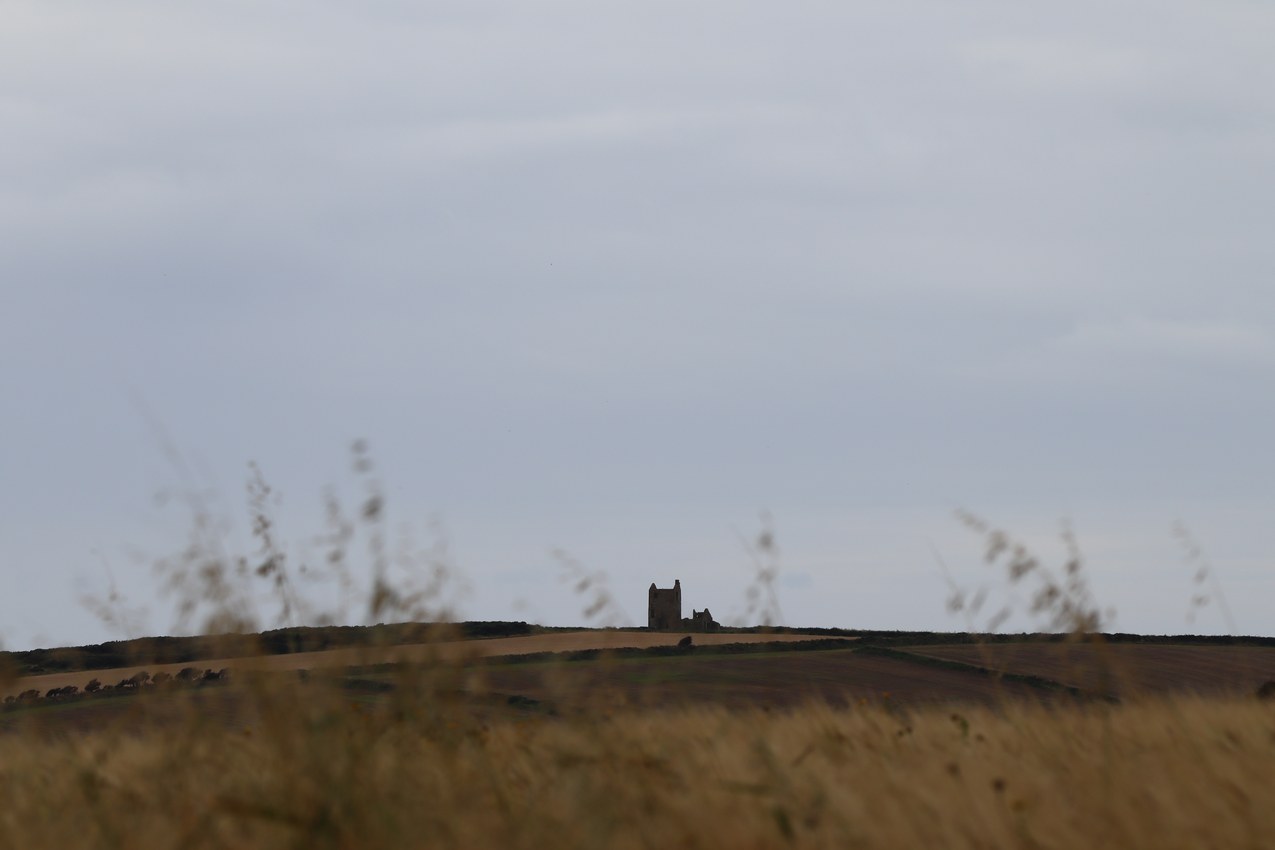 The Roberts Head Signal Tower in the distance
Getting to Cork was easy. I took an early flight to Zürich and worked from the Aspire lounge (unfortunately, the Swiss lounge didn't let me in, and I didn't know enough about my United Club pass benefits to make an argument), then made the hop direct into Cork's tiny but comfortable airport. It was really one of the best airports I've been to: passport control took no time at all and my single bag beat me to the baggage claim. I was in a cab less than 15 minutes from touchdown. This was amazing. Compared to my usual hell at BER, I'll take the speedy charm of Cork any day.
Of course, I had to take a cab because my driver's license was stolen during my recent trip to Amsterdam. Christine and I never travel without some mishap, and in this case not having a car while being so remote in the Irish countryside certainly made for some logistical challenges. Thankfully, our Airbnb hosts were beyond hospitable. They brought me up to do some grocery shopping before Christine arrived and even helped pick her up at the airport.
Christine arrived with a small cold and we ended up spending the first day recuperating. But before we left, we took the opportunity to hike up to the ruins of an old signal tower built out of fear of Napoleon's army. It was a bittersweet hike: our cat, Toby, had fell suddenly ill and wasn't going to make it. We said goodbye to him on a video call in the ruins of the tower, staring out at the Celtic Sea. As he passed, the sun broke through the clouds. He blessed us with a sunbeam as he left.
Leg 2: Belfast
After four days in Cork, we hopped on a train and made our way up to Dublin, where changing trains required a tram ride between stations, and then headed onwards to Belfast. We arrived at the hotel and asked reception for a recommendation for what to do with a single night in the city. "Cathedral Quarter, definitely," came the response. Dutifully, we headed in that direction, a 15 minute walk from our hotel.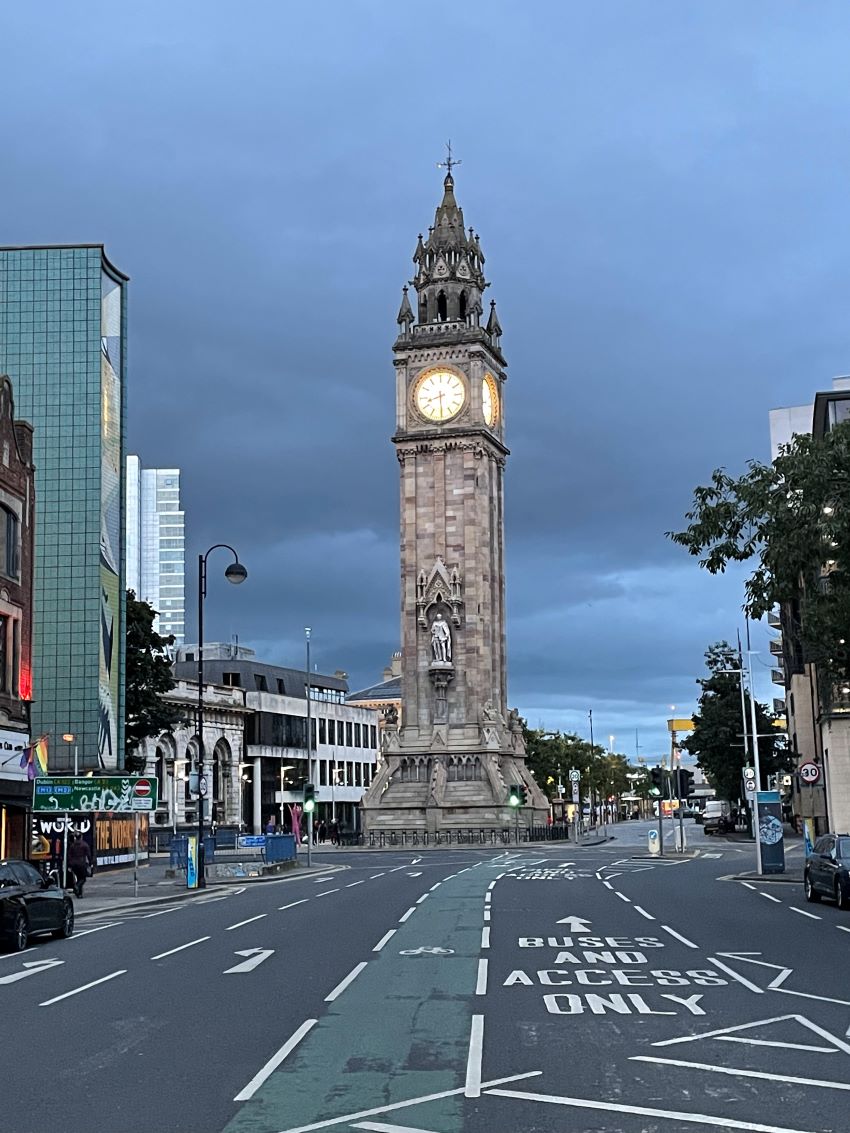 The Albert Memorial Clock, Belfast
We found a silly anarchist-branded (however that makes sense) pizza restaurant and had a few beers before walking around, admiring the street art and culture. Belfast has a strong familiarity to it. It reminds me a bit of Boston, or maybe Providence. We walked by Commercial Court, the narrow alley lined with bars, and found a very gay volleyball team doing a photo shoot underneath the rainbow-colored neon umbrellas. We both loved the city and wished we had planned more time there. We'll have to come back to it someday.
Leg 3: Douglas
After an overnight in Belfast, we caught a cab to the ferry terminal and boarded the Isle of Man Steam Packet Company's catamaran to head off to Douglas, the main city in the Crown Dependency. The ferry ride was comfortable and just long enough to settle in, have a couple beers, and do some reading.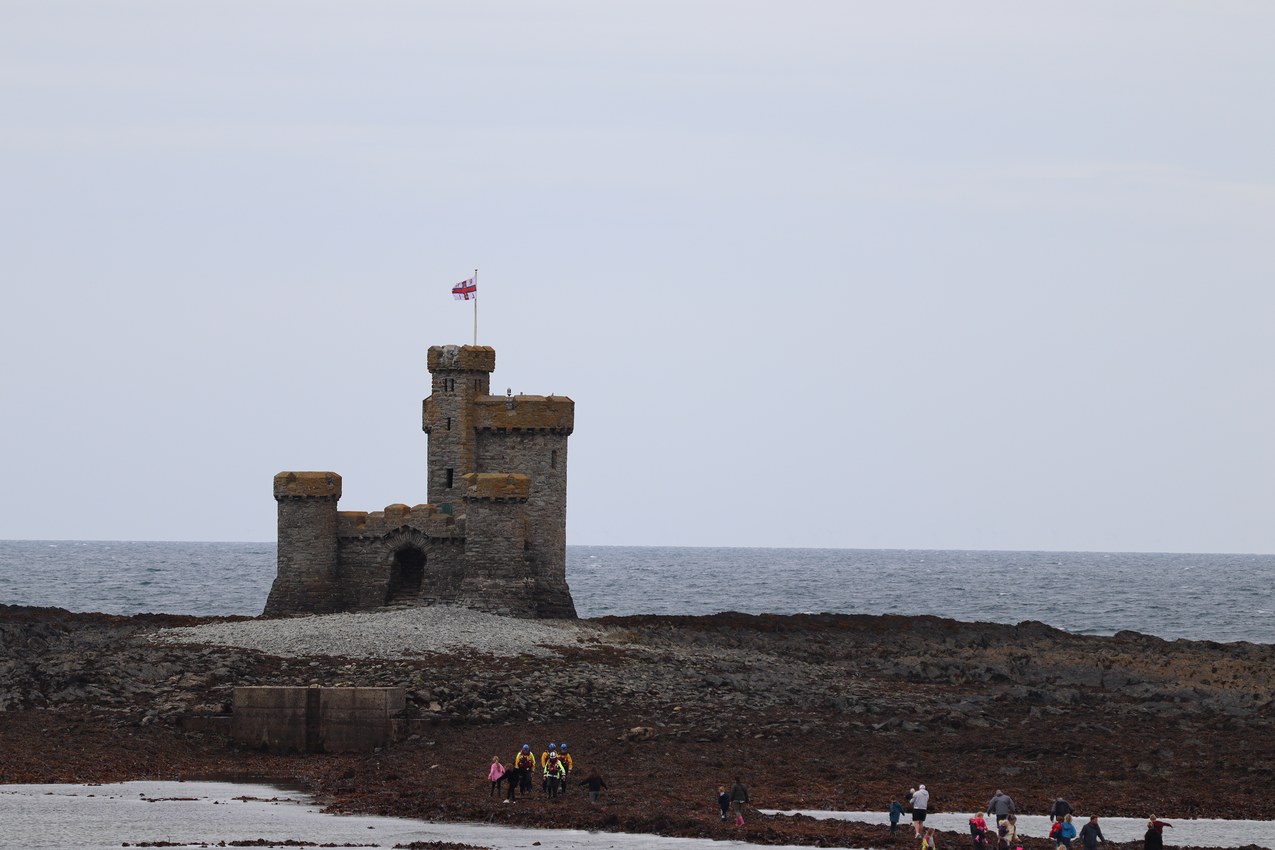 The Tower of Refuge, Douglas
Douglas is one of those seaside towns that I always have such a hard time describing. It's got that transient kitsch, the souvenir shops hawking tacky goods, the manufactured locality, a place that exists just to be a home to gift shops selling reminders of the place full of gift shops. Nobody stays in a beach town for long, there's always this liminal feeling to it. Douglas is even stranger with its main pedestrian mall, lined as it was in an eclectic mix of this beach kitsch, luxury shops, and outlets for daily essentials. The Isle of Man has a reputation as both a tax haven and a vacation location; its commercial core tried to fly the narrow canyon between both of those things.
We found a little pub with a decent menu with the best fish and chips I've had in a long, long time, had a pint, and took a rainy walk down the promenade. We like the Isle of Man and we'd go back if we had reason to, but we wouldn't go out of our way for it. We were glad to have been there, and I was glad to get one of the "technically it's own country" countries checked off my list.
Leg 4: Edinburgh
After a night in Douglas, we headed back to the ferry and headed off to Heysham, a tiny city north of Liverpool. The ferry terminal is, inexplicably, at a nuclear power plant, which is to say that when you disembark, you're outside a nuclear power plant with not much of anything else around. We encountered our second major challenge in Heysham: train drivers on strike. I had spent much of the evening in Douglas trying to find the cheapest alternative to get to Edinburgh, which turned out to be spending nearly four hundred pounds on a taxi. With no alternatives, we grinned and bore it and pre-booked a cab. The driver was nice enough, and we enjoyed the conversation about the differences between American and English schools, the mountains, and Bud Light Lime, but it got awkward when she started accusing Pakistani immigrants of ruining the NHS. It's clear how effective the fascist propaganda project in the UK has been.
Our hotel in Edinburgh was one of those hipster joints; Christine and I disagree on whether it was really a theme hotel. The hotel's restaurant was a popular location among the bridal shower crew. Middle-class Baby Boomers have their own image of what an upscale dining establishment should feel like, usually something with tablecloths and bad lighting, and so too do millennials, which brings its own aura of discomfort. It felt a bit dated to me, like 2014 off-Brooklyn upscale. The Hellen Keller quote painted above the door was simply the cherry on top. The decor was "Target but edgy." I can forgive it. But I still don't think it was a theme hotel. Take it up with my wife.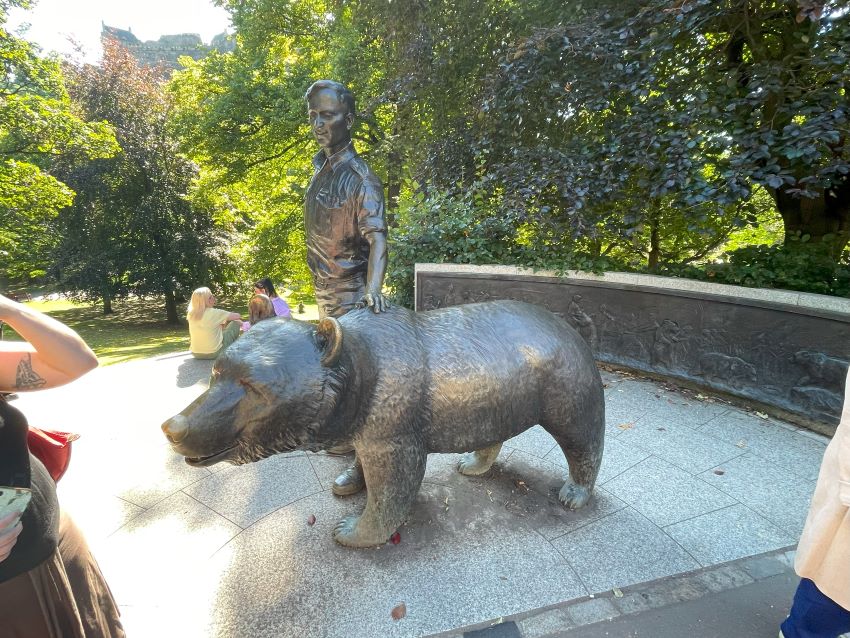 Statue to Wojtek, the anti-Nazi bear
Tucked in the Marchmont neighborhood as we were, Edinburgh gave me for some reason incredibly DC vibes. We spent our time in the city visiting museums, conquering the hills, and doing the touristy thing of tasting whisky at the Johnnie Walker experience. Christine really loved Edinburgh and we're excited to explore more of Scotland in a future vacation. Highlight of the city was absolutely the National Museum of Scotland, where we spent the few pounds to see the "Beyond the Little Black Dress" exhibit. Edinbugh Castle can be skipped. The relentless crowds and mediocre exhibits was not worth the money or the uphill trek.
Leg 5: Cardiff
After four days in Scotland, we hopped on a train again and wound our way down to Cardiff. The latter half of the journey was a real bear: the Welsh train had no climate control and little space for our belongings. We melted in the heatwave as we sat on the sunward side of the carriage.
Overcoming our first-world problems, Cardiff turned out to be the gem of the trip. We booked a hotel along St. Mary Street next to a gay bar and across from a little queer shop; I didn't expect Cardiff to be the nexus of Popeye's, Tim Horton's, and Taco Bell, either. We visited the Museum of Cardiff a small but spunky local history museum with great exhibits about local protest movements. I learned there about militant Welsh nationalism, which set off a series of bombs in the late 1960s as Welsh linguistic preservation movements were becoming active. It gave me complex feelings about nationalism and whether it can be justified when it aligns itself in a fight for liberation against a superpower, but I didn't come to any major conclusions here. The world is politically complicated.
Leg 6: Portsmouth and Goodwood
After two days in Cardiff, we made our way to the last leg of the vacation: three days in Portsmouth, visiting the Goodwood revival. The last time we went to Goodwood, the trip was made challenging by the rain. This time, it was the relentless heat that made the trip difficult. We found a nice Airbnb in Portsmouth right on the beach near the South Parade Pier. The beach was rocky and the skies hazy with humidity and bunker fuel exhaust. I took the morning in Portsmouth to photograph some local Grade II memorials as part of the Wiki Love Monuments initiative. None of the photos are award-worthy, but contributing a little to their local history feels nice.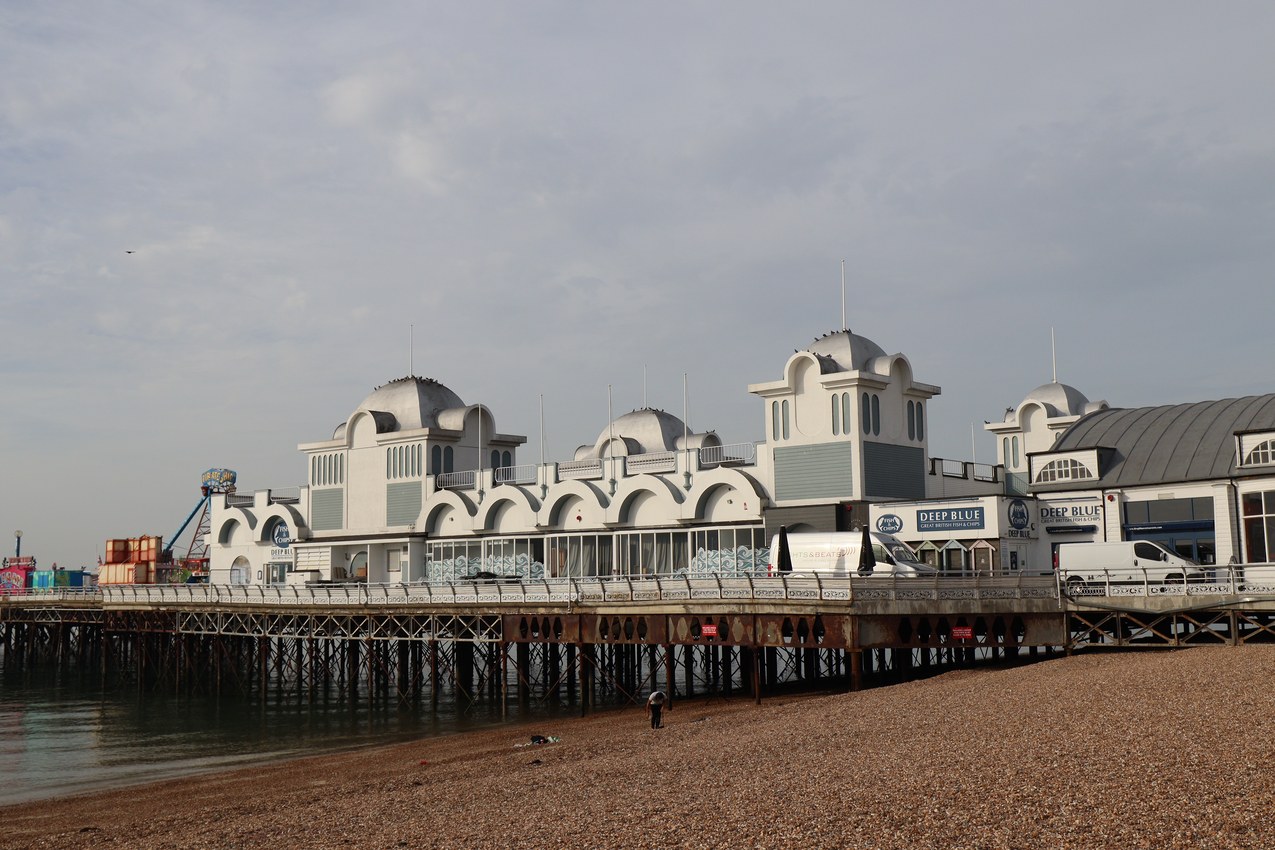 The South Parade Pier, Portsmouth
The Goodwood Revival was enjoyable, but the heat made it a bit unbearable. Unfortunately, none of the facilities had air conditioning, and every square inch of shade was taken. We paid little attention to the races, spending our time instead browsing vintage clothes at in the exhibitors area. I forgot my membership pin again, but thankfully they could look me up, which made finding some refuge (and food) in the members' garage a nice way to take a break.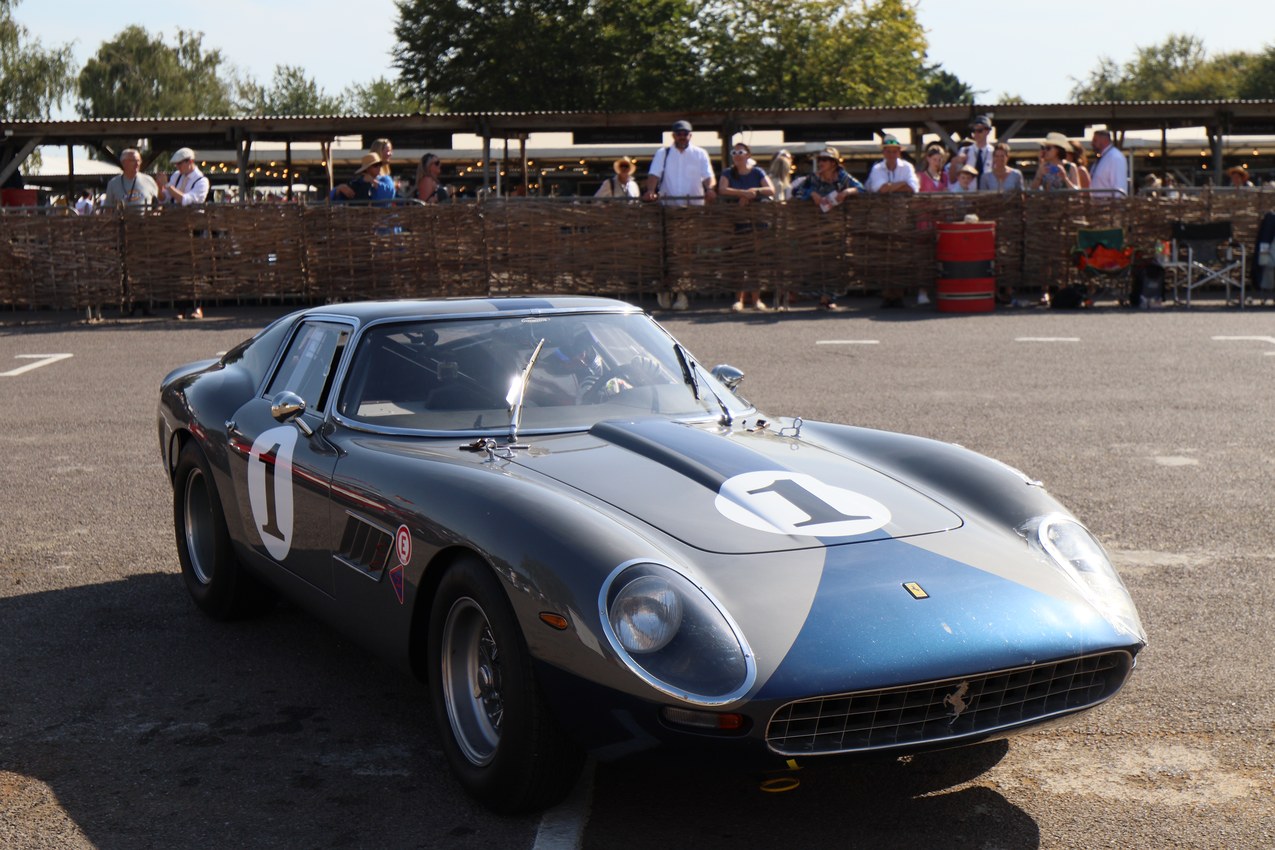 A vintage Ferrari lines up to race at Goodwood
Leg 7: Charlottesville
Mishap number three. I had wanted to spend a couple weeks at home after our trip, working remotely and easing back into my very hectic work life. Unfortunately, I forgot about a conference I had and instead headed back home for two days, instead. It was no lost opportunity: I needed to exchange some books between my Berlin and Charlottesville libraries and after Toby's loss I wanted to spend some good time with Queso and Tyrion. It was a short trip but I had a great time chatting with a friend and colluding with the Albemarle County Commonwealth Attorney's office.
The drive on the way home was rough. As we came down Route 29, the skies opened up with the heaviest rain I've ever seen. Visibility was zero, but that didn't stop any of the semi trucks barreling down the road. We kept on keeping on and somehow made it home in one piece.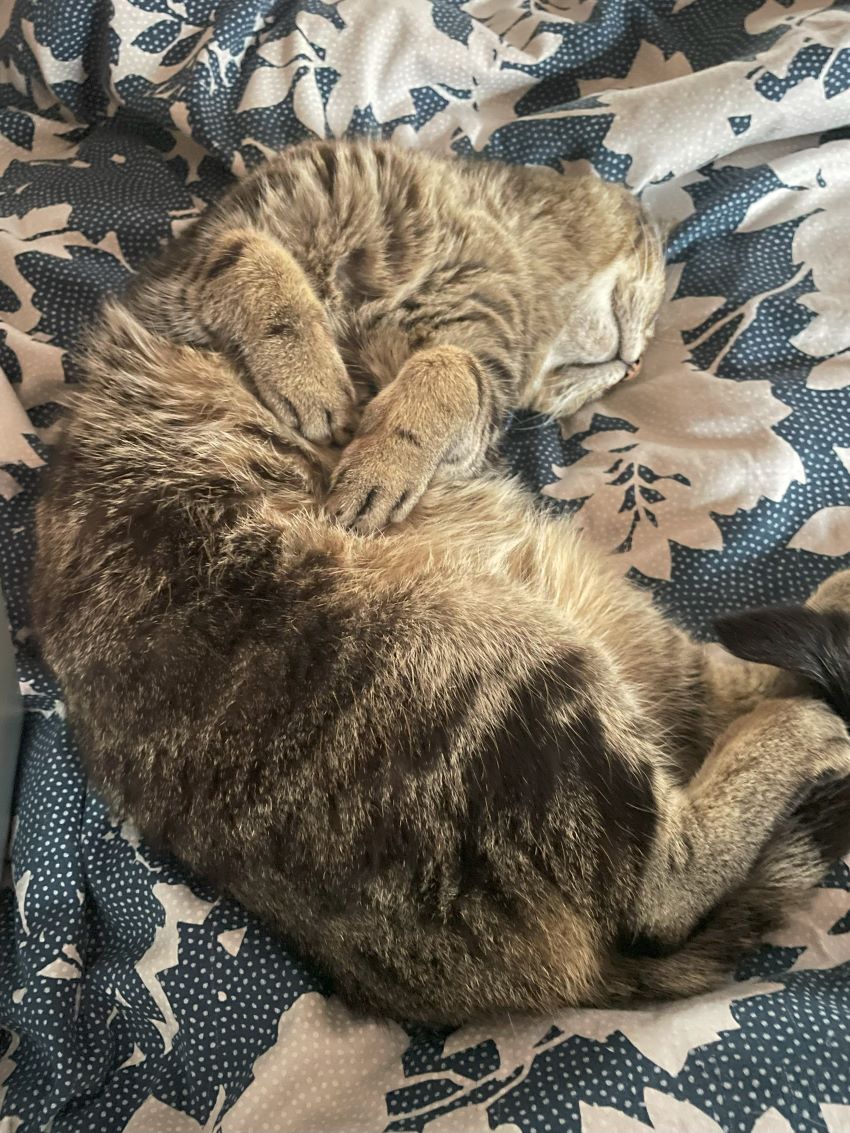 Tyrion's fuzzy belly
Leg 8: Geneva and Lausanne
After two nights in the US, I boarded the redeye to Geneva, where I spent a few hours taking calls along Lac Léman until a storm came up. I wound my way to the train station and caught the short train to Lausanne, where I was paneling at CDOIQ. My company had a booth there, as well, and a few of my colleagues also made the trip. Seeing some current and former clients, meeting new folks, and talking about data architecture is always fun. We wrapped up the evening with dinner at the beautiful Hotel Savoy. My problematic trait is that I actually really like Switzerland and one of the reasons is that they have surviving pre-WW2 architecture.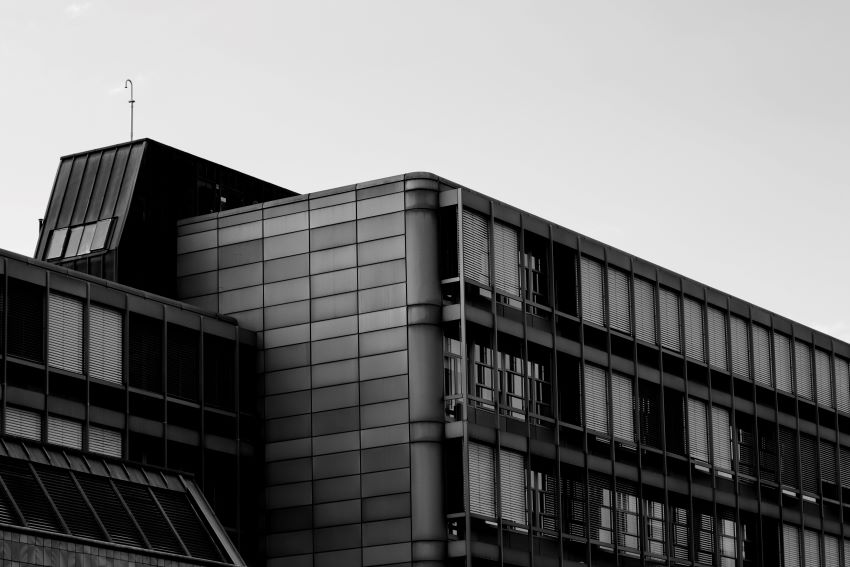 Extranef, Lausanne
Leg 9: Accidentally Istanbul
Hungover, I made my way back to Berlin the next day. For some reason, there was no suitable direct flight from GVA to BER, so I had a pointless layover in ZRH, which served only as an opportunity for an even more pointless 45 minute delay. Making my way home after three weeks living out of a carry-on, I was happy to get home, do some laundry and kick back for a whole 12 hours before heading back out on the road.
I wasn't actually supposed to be in Istanbul. I was supposed to be in Tashkent for a project. But silly me: I had forgotten to apply for the e-Visa during my vacation, which I didn't notice until I tried boarding the plane in Istanbul. Denied boarding, tired, and dejected, I hoped in vain I would get the visa the next day and set off to find a hotel in Istanbul for the night.
I've always wanted to see the city; years ago, I studied some Turkish, fell in love with the language and its mathematical grammar, the culture, the food, and longed to sit along the Bosporus and drink a coffee. I now had that opportunity. I found a hotel and checked in, saved a child from being stuck in a revolving door, and set off along the metro to Karaköy. I ducked into some small side streets and found a chill restaurant, using what Turkish I remembered to order a kebap and enjoy the bustle of one of the world's truly great cities. I walked along the Galata Bridge, marvelled at the beautiful mosques, and watched the dance of the ferries in the Golden Horn. Not a bad place to accidentally end up.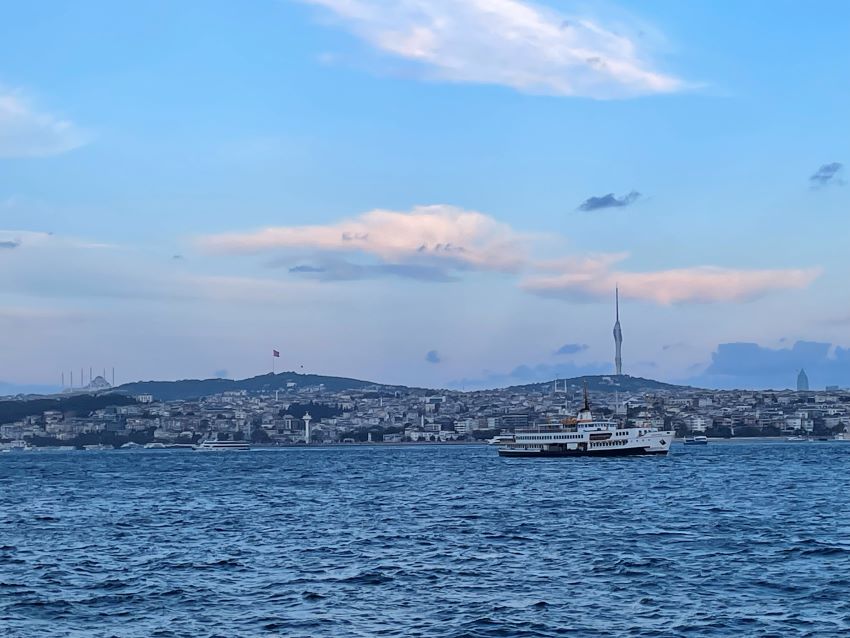 The rough waters of the Bosporus
The next morning, I headed back to Berlin, beaten from a ten-country, three-continent, 25-day trip, ready to recharge and get some work done before heading back out again, which happened much sooner than I would have liked.