I'm finding Berlin an increasingly ugly city. It's dirty and loud. The people can be rude. The weather is shit. Solidly half of my intense 2023 travel has been finding reasons to get out of Berlin.
When my best friend texted me suggesting we spend a week together doing some coworking in a remote location in Germany, I didn't hesitate to say yes. We were both in love with the little villages along the river on the train route down to Prague, and so we started looking for Airbnbs to spend a week at together before the tourist season began in earnest. The closer to the Czech border we could get, the better.
Actually, we got a bit distracted while exploring online, quickly falling in love with the idea that housing in the area was actually affordable. What if we bought a place here? I found an old adminstrative building for sale for less than $300k. What if we bought an old Bürgeramt? The thought is still compelling.
Neither of us had spent time in Dresden, only ever passing through, and when we needed to come to a decision point, they found a cute little Gesindehäuschen in Pillnitz, a village that is technically part of Dresden proper, but about as far upriver as you can get. Pillnitz sits on the Elbe's right bank and its main draw is Schloss Pillnitz and the associated English garden and grounds. The town sits in the foothills of Saxon Switzerland and there's plenty of hiking and nature to explore.
After work, we'd walk along the river or hike up to the artificial ruins, built a few hundred years ago by the prince. The ruins were then and are now usable as an event space, sitting on a hill overlooking the Elbe valley. Most beautiful perhaps is the nearly 600 year-old vineyard overlooking the palace grounds. We watched a big rainbow touch down in the distance as the sun set. Beautiful.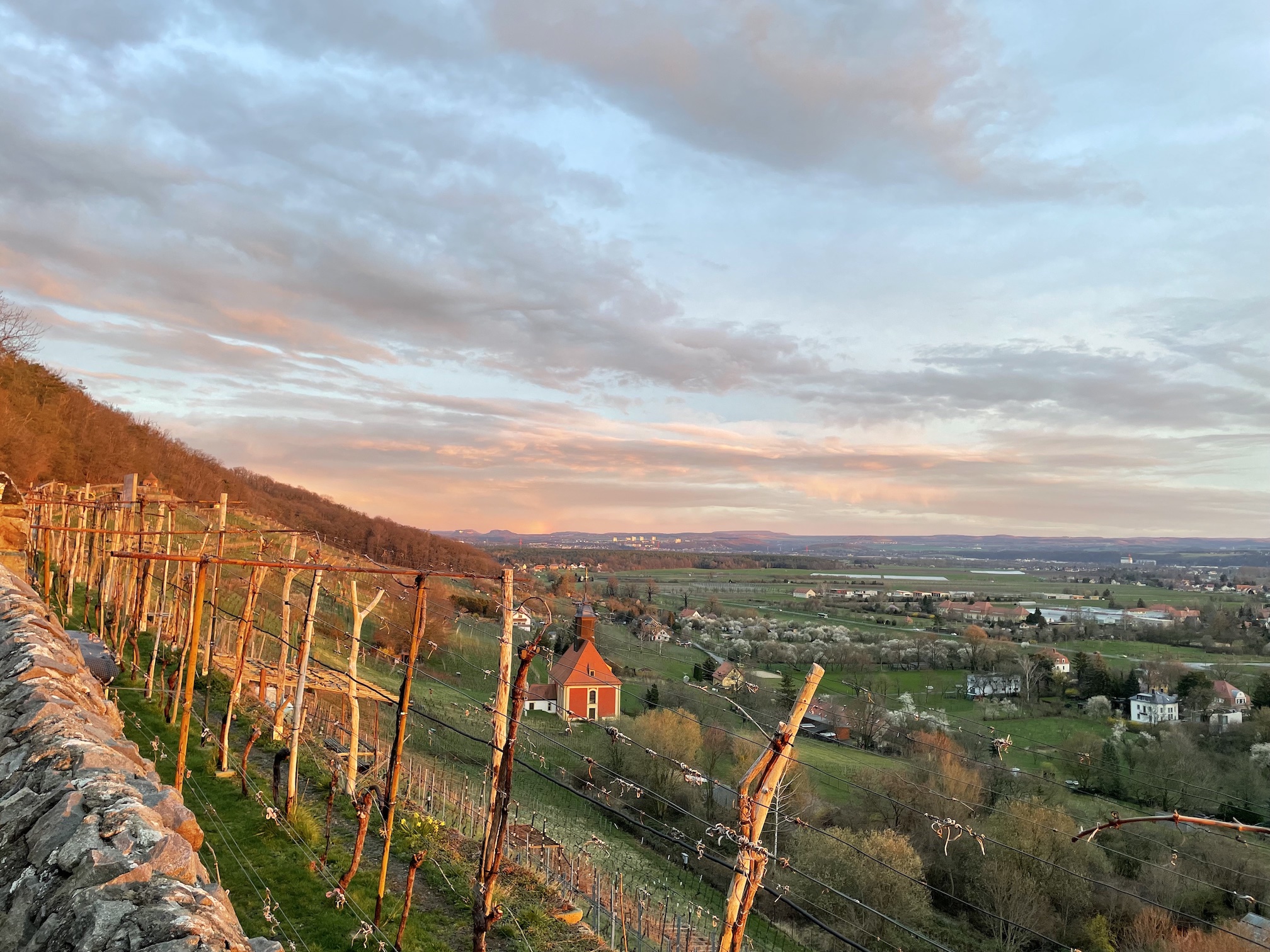 The relaxation was only a setback when I had to commit to a trip to Stuttgart for work. Getting from Dresden to Stuttgart is no easy task; the trains are rather long, and direct flights don't happen every day. I opted for the hybrid approach to save some time: I flew DRS to FRA, and then took the ICE down to Stuttgart. It was long and brutal, but I was amused by Dresden's airport. With only 12 gates, half of which don't really need to be used, it reminded me more of Little Rock's airport than the main terminal serving one of Germany's larger cities.
We found Dresden absolutely beautiful. Unlike Berlin, filled with streets of connected five-over-ones, Dresden is full of smaller buildings set apart by a small garden. It feels more intimate and smaller. The mountains and the river offer beautiful natural landscape for the city. Nevertheless, the German grumpiness did not fade away. As we departed Pillnitz, we opted for a more scenic trip back, taking the ferry across the river. As we departed, the ferry man asked us if we were heading back home. I confirmed, and he replied with a gruff, "good." We had a similar experience our first night, where we went to a local restaurant to eat. The people were friendliest to us as we were leaving.
Yet despite this, the area is absolutely one I'd return to. Beer gardens along the river, quaint village vibes, and a slower city pace feel quite attractive to me now. Maybe I'll head back for the Elbhang festival later this year. I still love Berlin but increasingly I need a change of pace. It's true: Berlin is not Germany.